Pricing
NYCPartyBus.net
---------------------------------------------------------------------------------------
Customer satisfaction is the core of our business. At NYCPartyBus, we provide the most modern, fully-equipped, well-maintained, and top-of-the-line party buses in New York City to satisfy your transportation or party bus needs.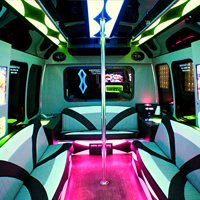 We have equipped our buses with the latest fixtures, signature leather seats, state-of-the-art audio and video equipment, adjustable lighting system, and a lot more to make sure that your party is fun, unique, and memorable.
We maybe more expensive than a taxi but well worth it, and our buses can fit up to 35 people so if you get all of your friends to come you can split the costs so it doesnt end up being as bad.
Our prices are tailored to the needs of the customer - from simple transport buses with the basic equipment to the lavishly-designed buses with the amenities comparable to that of your favorite party places. Tell us about your budget and we will tailor a party bus for you, an assurance that your party will go within your budget and within your needs.
NYCPartyBus.net will ensure that your experience with us is an unforgettable and pleasant one. Rely on service, quality and professionalism that NYCPartyBus.net has to offer

For bookings and pricing inquiries:

NYCPartyBus.net
45 West 21st Street
New York, NY 10010
(516) 847-5620
For party buses in other major cities on the east coast try out PartyBusPhilly.com, LimoDelaware.com. or Baltimore Limo.